Xtend

Listen

Period

Country

Quotation

Dictionary

Projects

Finders
Born: 26 March 1925, Montbrison (Loire), France


Boulez, Pierre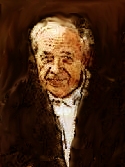 A composer identified with the serial

style, developed by Webern

from Schönberg's

dodecaphonic system

, from the early 20th century

. He was among the most influential contemporary musicians, both as a composer and as a conductor. He sees composing as a research in the principles of aesthetics and beauty. He deals with acoustic and electronic music

and founded IRCAM (the Institut de Recherche et Coordination Acoustique/Musique), a music research studio in Paris

, which opened 1977, specializing in the study and creation in music and acoustics

. Since then Boulez has concentrated on his work as director of IRCAM, where his main work has been Répons for Orchestra and Digital Equipment (for soloists, orchestra, tapes, and computer-generated sounds).
His work "The Hammer with no Craftsman" ("Le marteau sans maître") for flute, guitar, vibraphone, xylorimba, percussion and viola, is among the important serial pieces, for it broke through the cold logic and introduced imagination and inspiration into this strict, mathematical technique.
He was not interested in creating music that would be popular, and remained uncompromising in his composition throughout his entire career.

Boulez on the WWW
| | | | | |
| --- | --- | --- | --- | --- |
| Sites | Audio | Video | Images | MIDI |
Description
He played

He Was

He Lived in the

Twentieth Century



In


France