Xtend

His Music

Period

Country

Notes

Quotation

Dictionary

Projects

Finders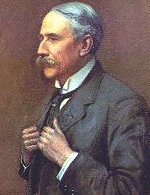 Born: 2 June 1857, Broadheath, England
Died: 23 February 1934, Worcester, England

Elgar, Edward

One of the most significant English composers in the late Romantic period. As a son of a father who owned a music shop with musical scores, he learned the principles of composition by himself. He earned his living as an violinist

, organist

and teacher, until he was able to move to London

as a composer. But his success came years later, after returning to the West of England.
Being an auto-didact (a self-learned person) he suffered a lack of confidence all his life, due to his being musically uneducated, yet gained vast success as a composer, especially his "Enigma Variation"


, in which the riddle is the source of the theme on which the variations

are based. The popularity he enjoyed with the variations led to a wave of interest in his earlier works, including the Pomp and Circumstance Marches
.
Another popular and famous piece he wrote, is the poignant Cello Concerto


, his last important work. Many years after Elgar's death, the concerto will become most popular under the proficient technique and powerful interpretation of the English cellist Jacqueline Du Pré.

Elgar Cello Concerto 1st mov. by Jacqueline Du Pre and Daniel Barenboim as conductor
Elgar on the WWW
| | | | | |
| --- | --- | --- | --- | --- |
| Sites | Audio | Video | Images | MIDI |
Description
His Instrument

He Lived in

Romantic period


England


And now on the WWW



Home Page