Xtend

Listen

Period

Country

Notes

Quotation

Dictionary

Projects

Finders
Born: 22 October 1811, Raiding, Hungary
Died: 31 July 1886, Bayreuth, Germany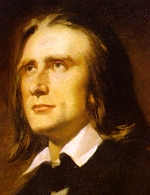 Liszt, Ferencz
Among the great piano virtuosos, and one of the most evidently Romantic

composers. As early as the age of 11, his mature playing won Beethoven's

admiration, and later on he continued performing and accumulating both money and almost hysterical fans everywhere he performed (a film called "Lisztomania"

with Roger Daltry as Liszt presented this amazing adoration).

As a child, he moved to Vienna

, where he studied piano from Czerny

and composition from Salieri

. After 2 years, he moved with his family to Paris

, where he became friends with Berlioz

and Chopin

, and became a fascinating, innovative composer

. His importance as a composer is enormous, for he developed the symphonic poem

, one of the important forms Romanticism

contributed to the history of music. The essence of symphonic poem is a musical piece presented as a single unit rather than separate symphony movements. In addition, a symphonic poem tells a story or an extra-musical experience such as an image, a song or even a patriotic idea (Smetana's

"My Fatherland", for instance). The introduction of extra-musical elements into musical composition

is understood in Liszt's work: he was interested in prose, poetry and painting, and influenced by all those arts. He was also affected by Paganini's

virtuosity on the violin

, writing music in a similar style for piano


and arranged some of his works for the piano. "Waltz Mephisto" is an example of his writing, but also the Piano Concerti no. 1 and 2 and "Faust" Symphony.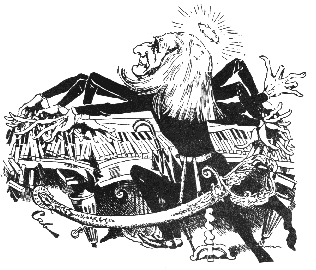 The old Liszt, unlike the young star, was possessed by Hungarian

patriotism (the "Hungarian Rhapsodies" he wrote throughout the years will bear witness to this), religious faith (retiring to Rome

, he turned again to religion and became a priest), and he helped young musicians a great deal, among them Wagner

, who even married his daughter Kozima. Like Wagner, he made extensive use of the "leitmotif"

technique (a guiding motif appearing over and over within a piece).


Liszt on the WWW
| | | | | |
| --- | --- | --- | --- | --- |
| Sites | Audio | Video | Images | MIDI |
Description
He played

He Was

He Lived in the

Romantic period


Hungary
Visit the