Xtend

Listen

Period

Country

Notes

Quotation

Projects

Dictionary

Finders
Born: 23 February 1685, Halle, Germany
Died: 14 April 1759, London, England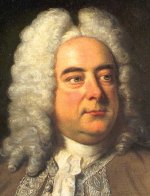 Händel, Georg Friedrich
Händel was born in the same year as J.S. Bach

, but unlike him, was not a member of a particularly musical family. His father wanted him to study law, but Händel learned music by himself and impressed the duke for whom his father worked so much, that the latter convinced the father to allow him to study music. He composed his first operas

in Hamburg, where he played the harpsichord

in the opera theatre, and later he was invited to Florence, where he further developed his mastery of Italian musical style. In Italy

he met Corelli

, Alessandro Scarlatti

and Vivaldi

, who had a deep effect on his writing


. He was extremely fertile, and his visit to London

was a great success that encouraged him to stay there for the rest of his life.
He composed his wonderful piece "Water Music"


for King George, then recently crowned as King of England, and this work demonstrates his unique talent for orchestration

. Another famous work is "Music for the Royal Fireworks", that apart from the music itself, includes an exciting spectacle; yet his big break came as he created the English oratorio

- a combination of the style of the Italian opera with little or no stage action and an English, religious text. His first oratorio "Esther", was accepted with great enthusiasm, and was followed by many oratorios such as his all-time famous "Messiah"


, "Judas Maccabaeus" , "Israel in Egypt" and others.
Händel is one of Baroque's

greatest artists, and alongside Bach, he wrote the most excellent instrumental pieces of his era, especially the 12 Concerti Grossi Op. 6.
Due to an illness, Händel was completely blind in his last years.

Handel's Messiah 5 of 14 - For unto us a Child is born
Look what Handel is used for...
Händel on the WWW
| | | | | |
| --- | --- | --- | --- | --- |
| Sites | Audio | Video | Images | MIDI |
Description
He played


He Lived in the

Baroque

Germany