Xtend

Listen

Period

Country

Notes

Quotation

Dictionary

Projects

Finders
Born: 15 May 1567, Cremona, Italy
Died: 29 November 1643, Venice, Italy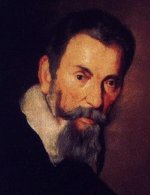 Monteverdi, Claudio (1567-1643)
Among the most important composers in the history of opera

. He was the first to introduce the orchestra-accompanied recitative

, instead of the recitativo secco

(speech between the opera's characters with no melody or accompaniment). In "The Legend of Orpheus"

(La favola d'Orfeo), he presented recited speech accompanied by the orchestra's playing, which made the latter a meaningful factor in the operatic plot, rather than sheer accompaniment.
Monteverdi also enlarged the operatic orchestra, introduced harmonic

novelties and daring dissonances

that enabled better expression of feelings and moods in the story. "The Coronation of Popea"

(L'Incoronazione di Popea) is an important opera written a long time after, and that develops these techniques.
Born in Cremona, Monteverdi served at the court of the Dukes of Mantua until 1612, when he moved to the basilica of St. Mark in Venice

as master of the chapel (composer and conductor at the royal chapel), a position he retained until his death in 1643.
In addition to opera repertory, he was also engaged in composing madrigals

, written for singers accompanied by basso continuo

, and a lot of church music.


Monteverdi on the WWW
| | | | | |
| --- | --- | --- | --- | --- |
| Sites | Audio | Video | Images | MIDI |
Description
He Was

He Lived in the

Baroque

Italy