Xtend

Listen

Period

Country

Notes

Quotation

Projects

Dictionary

Finders
Born: 27 January 1756, Salzburg, Austria
Died: 5 December 1791, Vienna, Austria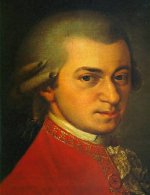 Mozart, Wolfgang Amadeus
The most wondrous musician in the history of music, in talent and astonishing musical productivity, as a composer. A perfect player and a gifted improviser


, multitalented and engaged in many aspects of musical art, and a prominent artist in every musical field he was involved in.

Mozart was born in Salzburg


. He was discovered as a child prodigy by his musician father, who took him and his sister for very successful tours around Europe. He became a trained composer, and was acknowledged as a composer by the age of 13, as well as an improviser and a musician of outstanding musical recall. In his visit to Rome

, he notated by memory Allegri's

"Miserere"

, a long 9 part religious piece, that was forbidden to copy or publish.
As a grownup man he moved to Vienna


. His great operas

('The Marriage of Figaro"

("La Noza di Figgaro"), "Don Giovanni", "All Women Behave Alike"

("Cosi Fan Tuti") and "The Magic Flute"


("Die Zauberflöte")), symphonies

(especially Symphony No. 40


, and No. 41 - "Jupiter"

), chamber music

and concertos

(among which the famous Piano Concerto No. 21 in C major, K467



) - these are only a handful of the output produced by the most fruitful composer in music history. Writing down music was pure technicality for him - all of it was created inside his head and was written with no drafts or corrections.

But the greatest of geniuses had a freelance career that brought him and his family no financial security. He died when he was 35 years old, in poverty, and since he did not have the money to buy a burial plot, Mozart was buried in a mass grave unknown to us. The "Requiem"


he wrote at the end of his life was indeed an interment prayer for the greatest martyr of music. It was completed by Mozart's pupil Süssmayer after the composer's death.

As an international musician, Mozart had a vast impact on many, including the elderly Haydn

, and young Beethoven

, who studied his chamber music


in depth. The giants of opera like Rossini

and Verdi

adored his writing, and Wagner

said he was "the greatest of god's geniuses". Mozart's compositions are marked by K. numbering as they were catalogued by the musicologist Köchel in the 19th century.



"The Queen of the Night" from the opera "The Magic Flute" by Mozart (Singer: Diana Damrau)
Mozart on the WWW
| | | | | |
| --- | --- | --- | --- | --- |
| Sites | Audio | Video | Images | MIDI |
Description
He played

He Was

He Lived in the


Classic period

Austria
Visit the