Xtend

Listen

Period

Country

Quotation

Projects

Dictionary

Finders
Born: 11 June 1864, München, Germany
Died: 8 September 1949, Garmisch-Partenkirchen, Germany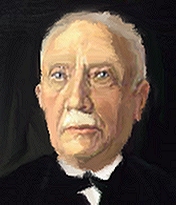 Strauss, Richard
The composer viewed as Wagner's

successor and the last Romanticist

, was the son of a horn player in the Munich orchestra, who dedicated his son to music from an early age, and acquired for him excellent musical education. Like Mahler

, his colleague and good friend, Strauss also made his living by orchestra conducting most of his life, and composed in his free time, under a clear influence of Liszt

and Wagner

. This influence is especially prominent in the sensational, controversial opera

"Salome", and the symphonic poems

"Don Juan", "Thus Spoke Zarathustra"


("Also sprach Zarathustra") and "Till Eulenspiegel", in which he brought, within the Romantic tradition of programme music, plus additional bold elements of his own, the symphonic poem, to an unrivalled level of expressiveness. His opera "Elektra" also represents his early tendency towards weird and horrifying topics.
During the reign of the Nazi regime, Strauss was appointed "the head of the Third Reich's musical department", and wrote music for official Nazi occasions, although opinions are split as to his motives. After the war and while being investigated by the "Committee for Investigation of Nazi Crimes", he wrote "Metamorphosis" ("Metamorphosen"), expressing longing for times that will never return. Although his past was somehow ambiguous, it caused him to move to Switzerland until the last year of his life, when he returned to die in Germany

.
Before his death, Strauss composed a few German Lieder

in the Last Four Songs ("Vier letzte Lieder") for soprano and orchestra.


Richard Strauss on the WWW
| | | | | |
| --- | --- | --- | --- | --- |
| Sites | Audio | Video | Images | MIDI |
Description
He Was

and played

He Lived in the

Twentieth Century

Germany