Xtend

Listen

Period

Country

Notes

Quotation

Projects

Dictionary

Finders
Born: 17 June 1882, Oranienbaum, Russia
Died: 6 April 1971, New York, USA

Stravinsky, Igor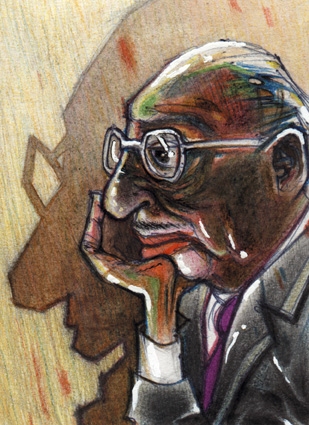 The composer who was forced to study law, and indulged in music after he graduated. He learned from Rimsky-Korsakov

, and his first big work was an orchestration

for Chopin's

ballet

music "The Sylaphides". His success brought about an order from the impressario Dyagilev, for three additional ballet pieces, some of the most important works of the 20th century

: "The Firebird"


("L'oiseau de feu"), "Petrushka", and the piece that provoked an enormous scandal among listeners - "The Rite of Spring"


("Le sacre du printemps"), describing sacrificial rituals in pagan Russia

. Because of its unconventional dissonances

and rhythms, critics viewed it as "Brutal", while the composer's fans saw it as an attempt to search for new directions in music.
In Switzerland, where he settled during World War I, he wrote various works, in which he used Russian folk music, as he had done in "The Soldier's Tale". Here, he manifested a tendency to narrow down the ensemble and for emotional restraint - signs of Anti-Romanticism (Romantic composers tended to use larger and larger orchestras and express intense emotions and moods in their music) that characterized his work.
Later on, he composed the ballet "Pulcinella", where he seemed to incorporate some of the work of Pergolesi

, and the neo-classical opera

"The Rake's Progress", referring to the comic

opera in the style of Mozart

.
Versatile and inventive in changing styles, as he always was, Stravinsky also composed interesting orchestral music incorporating jazz

music like in the Ebony Concerto for jazz band. In later years, he settled in the United States

, where he taught music and composed in the twelve-tone technique

developed by Schönberg

.



Stravinsky on the WWW
| | | | | |
| --- | --- | --- | --- | --- |
| Sites | Audio | Video | Images | MIDI |
Description

He Was



He played

He Lived in the

Twentieth Century

Russia