Xtend

äàæðä

ú÷åôä

àøõ

úåéí

öéèèåú

îéìåï

ôøåéé÷èéí

îöàðéí
Born: 1532, Mons, Belgium
Died: 14 June 1594, München, Germany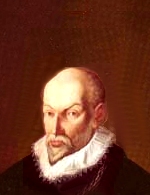 Lasso, Orlando di
Orlando Lassus (his Italian name was Orlando di Lasso) belonged to the Franco-Flemish school of composers whose work was extremely important in the 16th century. He was born in Belgium, moved to àéèìéä

, back to Antwerp and then he got a position in Munich, where Lassus remained until his death.
He wrote church music

, including more than 70 settings of the Mass

, Passions

and many motets

. Lassus also wrote secular Italian-style madrigals

, chansons

and some German Lieder

.
With Palestrina

, he is considered one of the most important composers of the Renaissance.

Lasso on the WWW
| | | | | |
| --- | --- | --- | --- | --- |
| àúøéí | àåãéå | åéãéàå | úîåðåú | îéãé |
úéàåø
äéä

æîø
åâí

îðöç î÷äìä
çé á

øðñàðñ

âøîðéä